Brighton traveller petition launched by Simon Kirby MP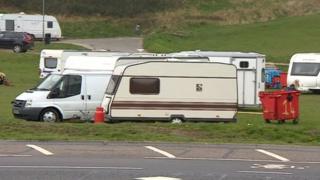 Unauthorised traveller encampments in Brighton and Hove should be dispersed quicker, says a Sussex MP.
Simon Kirby MP, who represents Brighton Kemptown and Peacehaven, has launched a petition in an attempt to encourage the city council to take quicker action.
It comes after a large group of travellers was evicted from Wild Park in Brighton, only to set up three new camps in the city.
The council has said permanent traveller sites will ease the problem.
'Cat and mouse'
Mr Kirby said: "It is incredibly frustrating that year after year we have this expensive game of cat and mouse around the city, with local residents left to pick up the cost, and often the rubbish, left after unauthorised encampments."
On Tuesday plans for a permanent traveller encampment in Horsdean were given the go-ahead, after the government decided not to hold a public enquiry.
Councillor Pete West, who is the chairman of the council's environment, transport and sustainability committee, said: "The impact unauthorised encampments on the city's open spaces has on local communities cannot be underestimated, coupled with the expense of eviction.
"The permanent site will help ease this issue and give greater stability for travelling families and strengthen existing links with the local community."