Brighton drinkers rescued from sea by lifeboat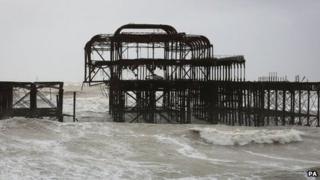 Four men who had been drinking were rescued from the sea off Brighton beach over the space of four days, the city's RNLI crew has said.
Three were reported to be in difficulties near the derelict West Pier at 05:55 BST on Wednesday.
The swimmers told the lifeboat crew they had been to an all-night party on the beach, where they had left their clothes and a pile of empty cans.
Another man, in his 20s, leapt from the Palace Pier at 17:40 BST on Saturday.
The RNLI was called when Brighton and Hove City Council lifeguards became concerned for his safety.
Brighton lifeboat crew put him on a stretcher and took him to Brighton Marina, where he was cared for by paramedics.