Hastings torture gang's sentences increased at Court of Appeal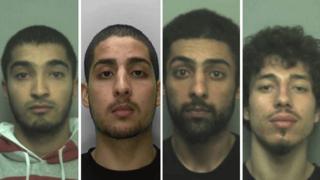 The sentences of a gang who falsely imprisoned and tortured a student have been increased at the Court of Appeal.
The four were jailed after they tied up Benjamin Hutchings-Mitchell, gagged him and beat him with a hammer in an attempt to make him hand over money.
The 21-year-old was lured to a house in Hastings, East Sussex, in September last year and tortured before being taken to woods in Battle in a body bag.
There, he was assaulted again and the men discussed burying him alive.
By the time he was released after being held for three hours, Mr Hutchings-Mitchell, who was a student at Brighton University living in Hastings at the time of the attack, had suffered multiple injuries.
The men were originally sentenced by Mr Recorder Enoch QC at Hove Crown Court in April.
The trial heard that the ringleader was Sam Simon, a friend of Mr Hutchings-Mitchell.
The sentence imposed on Simon, 21, of Earl Street, Hastings, was extended from six years to 10 years for false imprisonment and possession with intent to supply a Class A drug.
His brother Alex Simon, 18, had his sentence increased from four years to seven years in a young offenders' institution.
Artur Oganesyan, 23, of Stanley Road in Hastings, had his sentence increased from two years to four years in prison.
The sentence of Muhammet Yalcin, 20, of Kenilworth Road, St Leonards, was increased from five years to eight years in a young offenders' institution.
A fifth man, who was not involved in the attack, Jowad Ghemati, 27, of Holmhurst Lane, St Leonards, was convicted of witness intimidation at Hove and jailed for 12 months.
Lord Justice Davis said the sentencing judge had "quite rightly" described the offending as "horrendous".
He said that "given all the circumstances we are in no doubt that this court must interfere" with the sentences which were "not simply lenient, but unduly lenient".
Oganesyan did not participate in the violence or threats, but played an important role as driver, the judge said.
Mr Hutchings-Mitchell said he believed that the attackers had now been adequately punished.
He said: "Now it's a good enough sentence to actually make them realise what they've done and will give me space to let me live my life and forget about those who've tried to ruin it."