No inquiry for South Downs National Park traveller site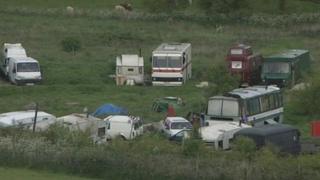 A permanent traveller site in the South Downs National Park north of Brighton can go ahead without a public inquiry being held, the government has said.
Brighton and Hove City Council and the national park authority has been told the application for 12 pitches at Horsdean will not be "called in".
The park's planning authority granted permission for the site in February.
Local government secretary Eric Pickles said he was content to let the authority's decision stand.
The 12 new permanent pitches, funded by a government grant, will be next to an existing site with 21 transit spaces.
Brighton councillor Pete West said the new site would reduce the likelihood of unauthorised traveller encampments in the city.
"I am relieved the Secretary of State has stopped thinking about calling this in, so we can now get on with building these much needed additional traveller pitches," he said.
"The impact unauthorised encampments on the city's open spaces has on local communities cannot be underestimated, coupled with the expense of eviction."
Trevor Beattie, chief executive for the South Downs National Park Authority, said Mr Pickles' decision vindicated the approach taken by the park and the council.