Balcombe fracking protesters 'spied' on by police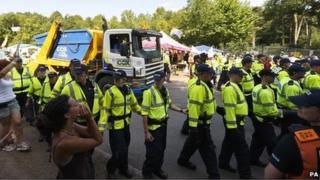 Police used covert tatics to spy on protesters at the anti-fracking demonstration in Balcombe, according to redacted information in a report.
Details about Sussex Police using the methods were blacked out in the independent report of its handling of the demonstrations last summer.
But it emerged the redacted section could still be read.
The force said they disclosed the information in good faith and defended the use of covert surveillance.
'Caught off guard'
Brighton Pavilion Green MP Caroline Lucas said she was "deeply concerned".
Hundreds of protesters gathered last year amid fears test-drilling at the site in East Sussex would lead to fracking.
The report was conducted by Hertfordshire Constabulary and Essex Police and was released through a Freedom of Information Act request.
It found that police were "caught off guard" because officers failed to prepare for the Sussex demonstrations sufficiently.
'Legitimate and necessary'
Two lines that were blacked out can still be read if the text colour is changed.
It reads: "Once the operation moved into August it was apparent that an appropriate range of intelligence sources were being harnessed, including where appropriate European Court of Human Rights (ECHR) compliant covert means."
In a statement, Sussex Police Assistant Chief Con Steve Barry, said: "We disclosed the information in good faith and had minor redactions.
"The reference to covert tactics is generic and does not compromise the operational effectiveness of our plans.
"We have a responsibility to gather intelligence to assess risk and build plans to keep people safe.
"Covert tactics are legitimate and necessary and whilst we can't disclose specific details, the methodology of these tactics is well publicised."
Green MP for Brighton Pavilion Caroline Lucas was one of more than 100 people arrested during the demonstrations against the test-drilling carried out by energy company Cuadrilla.
She was found not guilty of public order offences.
The MP criticised Sussex Police for using covert intelligence and said it was "completely ludicrous."
She added: "I am deeply concerned about the waste of police resources going on here and how legitimate peaceful protest is being criminalised in this way."
Protesters belonging to the Frack Free Balcombe Residents Association (FFBRA) have started legal action against Cuadrilla and West Sussex County Council after permission was granted for the energy company to carry out further tests at the site.