McLaren worker in 'stable' condition after Duncton crash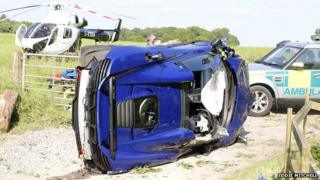 A McLaren worker suffered "critical injuries" when he crashed one of the company's supercars in West Sussex.
The man was impaled on a fence post after the McLaren 650S he was driving left the A285 at Duncton on Friday.
He had to be airlifted to St George's Hospital in Tooting.
A company spokesman said the man's family were with him at the hospital, and added: "Our thoughts are with our friend and colleague, and his family."
The crash happened about 30 miles (48km) from the company's Woking factory.
Sussex Police are investigating the crash with the "full cooperation" of the company.
They have appealed to be contacted by anybody who saw the incident.
The McLaren 650S, which was developed at the company's Surrey headquarters, has a maximum speed of 207mph (333km/h).