No re-election for Brighton Green leader Jason Kitcat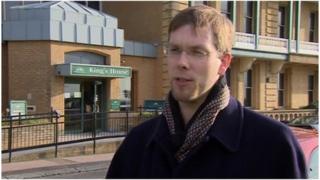 The leader of Brighton's Green-run council has announced he will not stand for re-election next year.
Councillor Jason Kitcat said on his blog it had been his intention since 2010 not to serve another term.
He said he was proud of what the Green administration had achieved in Brighton but he was "ready for a new challenge".
The Labour group said the city had a Green council "paralysed by division, unable to face tough decisions and to do what's needed".
The BBC has not been able to contact Mr Kitcat, but he wrote on his blog: "In dealing with the challenges we've faced, I've done all I can to contribute positively to our city for the benefit of all who live, work and visit here.
"I'm proud of what we've been able to achieve as a Green administration that I have led since 2012."
'Vital decisions'
He added: "I have no firm plans as yet and intend to continue in my current role until the council term ends as there's lots still to do."
Councillor Warren Morgan, leader of Brighton council's Labour and Co-operative Group, said he wished Mr Kitcat well, but added: "I would remind everyone that he is remaining in office for another 10 months, with another budget and many more vital decisions to make.
"We have a Green council paralysed by division, unable to face tough decisions and to do what's needed to protect essential services in the face of Conservative cuts."
Earlier this year, Brighton's Green administration faced a vote of no confidence after it proposed a council tax raise of 4.75%.
Brighton council confirmed Mr Kitcat had announced he would not be standing in the next local election.
A council spokeswoman said Mr Kitcat would continue as council leader until May 2015.