Disappearing D-Day veteran Bernard Jordan turns 90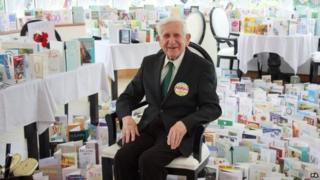 A WW2 veteran who hit the headlines around the world after he disappeared from his nursing home in Hove to attend the D-Day commemorations in France has celebrated his 90th birthday.
Bernard Jordan had decided to have a "low-key" birthday, spending it quietly with friends and his wife Irene.
But he received at least 2,500 birthday cards after his trip to Normandy.
"I just can't believe it. It's quite overwhelming to be honest," the former Royal Navy officer said.
The Candy Girls, who met Mr Jordan on his way to France, were also singing to him.
'Nothing special'
"I want to thank everyone who sent me a card or a gift," he said. "Sadly, I can't thank everyone in person so I hope they get this message.
"I'm just one man and I'm nothing special. Anyone would think I'd defeated Hitler on my own."
And he said: "There were a lot of other people on the beaches of Normandy that day. This lovely attention is for them really, not me."
On 5 June, Mr Jordan left The Pines care home, where he lives with his wife, and was reported missing to Sussex Police that evening.
It was later discovered he was safe and well and had joined other veterans in France, where hundreds of veterans marked the 70th anniversary of the D-Day landings.
Staff at his nursing home had tried to get him on to an accredited tour to Normandy with the Royal British Legion but it was a last-minute request and had not been possible.
Undeterred, Mr Jordan decided he would go there anyway wearing his war medals under his grey mac, but his trip sparked a police alert.
His whereabouts was uncovered when a younger veteran from Brighton made a call to say he had met Mr Jordan on a coach and they were safe and well in a hotel in Ouistreham.
Mr Jordan, a former mayor of Hove, could soon be honoured with the Freedom of Brighton and Hove.
Current mayor of the city Brian Fitch has put forward a proposal to the council's chief executive Penny Thompson.