Brighton's 'rainbow crossing' removed from city street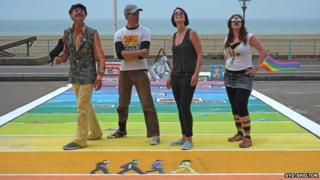 A "rainbow road crossing" in Brighton has been removed a week after it first appeared in the Sussex city.
The artwork, which organisers claimed to be the first in Europe, had been added to Madeira Drive to mark LGBT Pride Month.
Brighton and Hove Council said the rainbow was scrubbed away because it was an artwork that had never been intended as an official crossing.
Some residents had called for the crossing to become a permanent feature.
Neil Sykes, who owns The Modern World Gallery on Madeira Drive, said the response to the rainbow had been "astonishing" with visitors coming from across the country to see it.
He also claimed the road needed a new crossing because of a lack of safe points for pedestrians to cross.
'Lead the way'
Madeira Drive currently has one road crossing opposite Palace Pier.
Mr Sykes added that Brighton could "lead the way in Europe" by having a rainbow crossing.
Brighton MP Caroline Lucas has also called for the crossing to be made permanent, calling it "a fantastic, fun tribute to our vibrant city".
The Green Party leader said she believed any safety issues with keeping the crossing "shouldn't be insurmountable" and had raised the issue with the council.
A spokesman for the council said it would be happy to consider another "rainbow crossing" artwork in the future if organisers were willing to cover the costs of installation and removal.
But he stressed the council had been "strongly advised by our legal team that any application for it to be treated as a pedestrian crossing was likely to fail" because it was "not consistent with national traffic regulations".
Permission for the road crossing would have had to be granted by the Department for Transport.
Rainbow crossings have appeared in various places around the world after the first was painted in West Hollywood by artist Martin Duvander in 2012.