Disruption forecast on major roads in East Sussex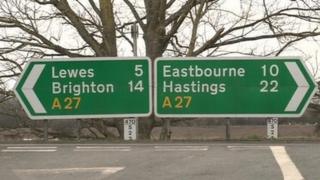 Motorists are warned to expect disruption and delays over the weekend as large vehicles travel on major routes in East Sussex.
The A27 will be closed between Polegate and Bexhill between 06:00 and 09:00 BST on Saturday as a wide lorry takes up both sides of the carriageway.
On Sunday a second vehicle will be using the A23 southbound and then the A27 and A259 to Bexhill.
The long lorry is not expected to cause disruption until it reaches Lewes.
Sgt Dan Pitcher from Sussex Police, said: "On Sunday we expect the A23 and A27 will be affected until about 7am, the A27 between Lewes and Polegate between 7am and 9am and then the A27 in Polegate to the A259 in Bexhill from 9am to midday."
He said it would have been dangerous to move the equipment needed for the construction of the Hastings to Bexhill link road during the hours of darkness.