Travellers leave Brighton park and set up three new camps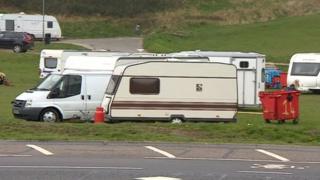 A large group of travellers removed from a park in Brighton have set up camp in three other places in the city.
The travellers left Wild Park on Wednesday, where they had been staying since late May.
Sussex Police gained powers under Section 61 of the Criminal Justice and Public Order Act to have them removed.
However, upon leaving they gained access to Black Rock, Stanmer Park and Preston Park, where they remain.
'Vulnerable sites'
Insp Paul Ransome, from Sussex Police, said: "The decision to take action in relation to the large encampment at Wild Park was significant but necessary.
"This is a large public park and considerable disruption was being experienced by businesses and residents.
"There is always a risk in relation to the movement of such large numbers and steps were taken to mitigate those risks, unfortunately not all vulnerable sites can be completely protected."
Brighton and Hove City Council's traveller liaison team and Sussex Police will be making joint site visits to the three new encampments later.