Brighton and Hove council looks at Sunday free parking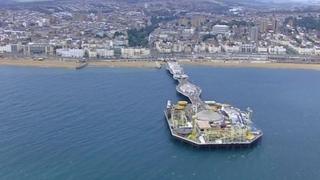 A call for free parking in Brighton on Sundays has been considered after the council received a 1,300-name petition.
Councillors rejected the move at this stage but said it should be looked at during a general parking review.
Liberal Democrat activist Jeremy Gale had claimed a council report on the plans was biased in favour of Green Party policy.
But Green council leader Jason Kitcat said it was prepared by officers and dismissed the claims as "nonsense".
Officers were asked to prepare the report after the petition was presented to the Green-led council in March.
The policy and resources committee considered three options on Thursday - city-wide free parking on Sundays, partial free parking on Sundays, or the recommended option to refer alternative parking charges to a later review.
'Putting ideology first'
Mr Gale said the report failed to highlight the positive impact of the scheme on the economy.
He said the Green Party had brought in "punitive" parking controls and had put ideology before the needs of the city.
Mr Kitcat said the move would require signs to be changed, a refund to residents who paid to park for seven days a week and he had concerns about air quality.
He also said the challenge to Brighton was not the economy, but rather coping with the numbers of people trying to visit.
The city has seen an extra 50,000 overnight visitors every year for the past three years, was named the UK's top seaside resort and the eighth most visited place in the country, and it also had a lower retail vacancy rate than London, he added.
Conservative transport spokesman Graham Cox said the scheme would probably cost too much money but believed the Green Party were "trying to put the whole idea into the long grass".
He said the Tories had come up with an alternative plan which was for underused council-run car parks to offer reduced-cost or free parking on Sundays.