Continental swallowtail butterflies in UK 'colonisation attempt'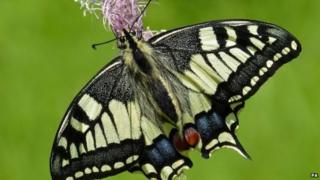 A European butterfly could be attempting to colonise the UK after eggs that were laid last year hatched, Butterfly Conservation has said.
A dozen adult continental swallowtail butterflies have been seen across Sussex in the past few weeks, the wildlife charity said.
Last year's hot summer led to the the largest invasion of continental swallowtails since 1945.
Eggs were laid in a number of gardens in Hastings, Eastbourne and Chichester.
Butterflies were also seen in Suffolk, Kent, Hampshire and Dorset last year.
The butterfly, which has black and yellow markings and a streamer-shaped tail, finds it difficult to survive winter in the UK's relatively cold climate.
'Regular visitor'
But the emergence of adults from pupae in recent weeks suggests its breeding attempts last year were successful, with the mild winter likely to have been a factor in helping them survive.
The UK's own subspecies of swallowtail, the country's largest native species, which is smaller and darker than its continental cousin, is restricted to the Norfolk Broads.
Michael Blencowe, from Butterfly Conservation's Sussex branch, has been monitoring the butterflies since they arrived last summer.
He said: "This current invasion could be the start of the colonisation of southern England by the swallowtail.
"In 20 years this butterfly could be a regular visitor to our gardens."
The charity is urging members of the public who see continental swallowtails to send details of sightings through its website.