Orchid View home's 19 unexplained deaths prompt safety call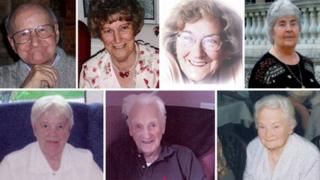 Nineteen unexplained deaths at a scandal-hit care home in Sussex have prompted calls for safety improvements in the private care sector.
Shadow health secretary Andy Burnham told MPs he was "shocked to the core" by a report on Orchid View care home.
He asked health secretary Jeremy Hunt to consider ensuring the same principles of patient safety in the NHS applied to the care home sector.
Mr Hunt said care homes were now subject to "rigorous" inspections.
Orchid View in Copthorne was run by Southern Cross and closed in 2011.
'Appalling abuse'
After the findings of a serious case review were published on Monday, Russell Tucker, whose mother Margaret Tucker died at the home, called for government action to prevent similar cases happening again.
He also said the private care home sector had failed.
An inquest last year found all 19 people whose deaths were unexplained at Orchid View, had received "suboptimal" care.
Mr Burnham had said: "This is just the latest appalling case of abuse in care homes coming after Winterbourne View and the recent Panorama programme on Oban House (in Croydon).
"People are asking how many more times will we see abuse of this kind in our care homes and not take decisive action to stop it."
Responding in the House of Commons, Mr Hunt referred to the Francis Report, which made recommendations after examining care failings at Mid Staffordshire NHS.
He said: "You are absolutely right to say the lessons of Francis need to be applied to the care home sector, to general practice, to all out of hospital care, every bit as much as they apply to NHS hospitals."
He said the Care Act had legislated for both a chief inspector of general practice, and also a chief inspector of adult social care who was bringing rigorous Ofsted-style analysis to care homes.
At Orchid View, whistleblower Lisa Martin first told police about problems at the home.
She later revealed she had not been able to find employment for years after exposing the abuse. Her case then led to calls for for an inquiry into how whistleblowers are treated.
Mr Hunt said: "We also need to do more...to help whistleblowers working in care homes because there are so many care homes who can't just depend on inspectors to get this right, and we've also introduced the ability to prosecute offenders which didn't exist before."
Last year's inquest heard five of those who died had suffered neglect. They were Wilfred Gardner, 85, Margaret Tucker, 77, Enid Trodden, 86, John Holmes, 85, and Jean Halfpenny, 77.
Residents were left soiled and unattended, and one nightshift saw staff make 28 drug errors.
The care home has since reopened under a new name and new management.