Classes cancelled as City College Brighton staff strike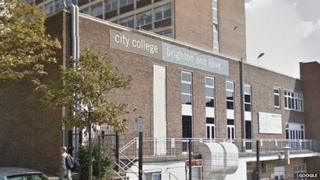 Classes have been disrupted at City College Brighton and Hove after union members went on strike against proposed cuts to make £1.5m of savings.
Members of the University and College Union (UCU) believe plans to cut staff would lead to courses being scrapped and a worse service for students.
The college questioned the timing of the strike as it affects students during a crucial time of the year.
It said some classes were cancelled but the college remained open.
The college has proposed to cut "55 full-time equivalent jobs", including both full-time and part-time workers.
It said the cuts were a "painful process" but necessary due to a major reduction in funding for the college and changes to the curriculum.
According to UCU, 220 members of staff have been told their jobs were at risk under the proposed changes.
It claimed the strike had received "fantastic support" from members who also attended a rally in the city.
John Gilhooly, the union representative for the college, said staff were angry about the impact the cuts would have on the quality of teaching and care for students.
Building plans
Principal and chief executive of the college, Lynn Thackway, has insisted consultations are ongoing "in order to minimise the overall number of job losses".
"We remain optimistic that a satisfactory outcome is achievable which is acceptable to management and unions alike", she said.
The consultation will finish at the end of the week with an announcement expected from the college shortly afterwards.
However, staff have claimed they are unhappy by the way the consultation has been run.
They have also questioned the college's decision to apply for planning permission for a new building at a time when savings are required.
The college has previously said the building plans had no connection with staff numbers as both were financed from different budgets.