Bernard Jordan: City honour for veteran's 'heroic escapade'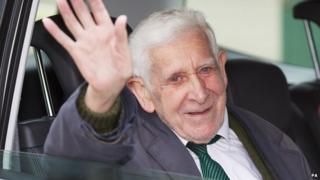 A WW2 veteran who disappeared from his nursing home to attend the D-Day commemorations in France could soon be honoured for his "heroic escapade", the mayor of Brighton and Hove has said.
Councillor Brian Fitch has put forward a proposal for Bernard Jordan to be given the Freedom of the City.
The move has to be approved by Brighton council chiefs, but if it goes ahead it could happen as early as next month.
"It's the biggest honour you can give anyone," Mr Fitch said.
'British spirit'
On Thursday, Mr Jordan, 89, left The Pines care home in Hove, where he lives with his wife, and was reported missing to Sussex Police that evening.
It was later discovered he was safe and well and had joined other veterans in France, where hundreds of veterans marked the 70th anniversary of the D-Day landings on Friday.
Staff at his nursing home had tried to get him on to an accredited tour to Normandy with the Royal British Legion but it was a last-minute request and had not been possible.
Undeterred, Mr Jordan decided he would go there anyway - but his trip sparked a police alert and threw him into the media spotlight.
On his return, Mr Jordan, a former Royal Navy officer, said he never imagined his visit would cause such a stir.
"His determination showed the spirit of D-Day. He's still got it," Mr Fitch said.
"I think it encourages people of any age. They admire someone who's got guts and determination.
"When they said he couldn't go there, he said 'I'll get there myself'. It's the British spirit."
Mr Fitch said he would be meeting Mr Jordan, who is also a former mayor of Hove, to discuss the plan and also hear about the veteran's trip to France.
He described it as an escapade but said it was also "heroic", because of the importance of D-Day.
"Its meaning to Bernie and many of us is it's part of our history and part of our love for freedom," he said.
"It's important to remember those who gave their lives."