WW2 surgeon Sir Archibald McIndoe statue unveiled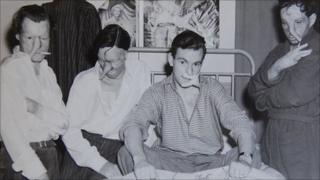 A statue has been unveiled of the World War Two pioneering plastic surgeon Sir Archibald McIndoe in West Sussex.
The doctor performed surgery on severely burned aircrew at Queen Victoria Hospital, in East Grinstead.
In 1941 he began a drinking club for patients called the Guinea Pig Club which grew to 649 members by the end of the war.
The Princess Royal unveiled the bronze statue, which is 7ft (2.1m) tall and cost £170,000, in the High Street.
She is the patron of the Blond McIndoe Research Foundation.
During and after the war, Sir Archibald's burns unit developed surgical breakthroughs in tandem with vital psychological support.
The piece of art to commemorate his work was sculpted by Martin Jennings, whose father was treated by Sir Archibald during the war and has created works of Sir John Betjeman at St Pancras station and Charles Dickens at Portsmouth.
He said the statue showed McIndoe with a seated patient looking up a the sky he cannot fly in anymore.
Lte Sandy Saunders was treated by Sir Archibald in 1945.
He said: "He was such a brilliant man and I owe him a great deal.
"He restored me to a such a condition that I was able to lead a successful career.
"He brought me back self respect and the confidence in facing life again.
Actress Amanda Redman also attended the unveiling of the statue outside Sackville College.
She was treated at the McIndoe surgical centre after being left with burns when she poured a pot of scalding soup on herself when she was a baby.
She is to make a film about the surgeon's life and said: "I really do want other people to know about him."
The Guinea Pig Club was named as such because of the experimental surgery the patients underwent.