D-Day: Disappeared Hove veteran returns from Normandy trip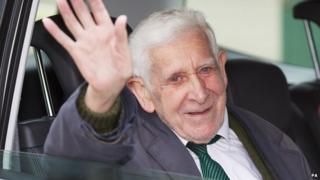 A World War Two veteran who disappeared from his nursing home to attend the D-Day commemorations in France has returned to the UK.
Bernard Jordan, 89, left The Pines care home in Hove unannounced at 10:30 BST on Thursday and was reported missing to Sussex Police that evening.
Staff later discovered he had joined other veterans in France.
The former Royal Navy officer said: "I never imagined my visit would cause such a stir."
'Hearty English breakfast'
In a statement, read by Peter Curtis, chief executive of Gracewell Care Homes, Mr Jordan said: "I want to thank everyone for their kind words and best wishes following my trip to Normandy.
"I am delighted to be back at home with my wife and the wonderful staff here at The Pines. I was never banned from going to commemorations - I just decided to make my own way there.
"I've decided to tell my story to one media outlet, but thank you very much for your interest and the lovely coverage of such an important day.
"All the men and women who took part that day 70 years ago are heroes - especially the ones who never came back".
Mr Curtis said Mr Jordan was on "fine form" and glad to be back in the UK.
"He came off and tucked into a hearty English breakfast as soon as he got off the ferry," he said.
"Then he came and met us and a couple of other of my team from the care home - who he was absolutely delighted to see.
"He really was on sparkling form".
According to staff at the care home - where Mr Jordan lives with his wife Irene - the veteran was unsure whether to attend the commemorations in France or ones organised in the UK.
However, after the home bought a new blazer for him to pin his medals to, he decided to go to Normandy alone, without telling anybody of his plans.
Before embarking on his journey home, Mr Jordan, who used to be mayor of Hove, told ITV News: "I have been here last year and I have been here obviously this time... but if I am still about I shall try next year's as well."
Asked if he would be in trouble when he returned home, he added: "I might be, but I hope not."
Ship's liaison officer Sonia Pittam, who met Mr Jordan on his way to France, said: "I knew he was a game old boy.
"He certainly has his wits about him, he didn't say much about the landings, just how pleased he was to be on board and couldn't believe how everyone was looking after them [veterans] and all the people waving on the route to the harbour entrance.
"He kept saying, 'All this for us'."
Mr Curtis said he had spoken to Mr Jordan's guide and added: "He found it all very emotional - much more than he was expecting, which is why he wants to come home early."
The Labour leader, Ed Miliband, praised Mr Jordan, saying in a tweet: "Bernard Jordan's incredible story shows the spirit of D-Day veterans is alive and well."
Hundreds of veterans marked the 70th anniversary of the D-Day landings in France, with events on the beaches of Normandy.
The landings were the first stage of the invasion of Nazi-occupied Europe.