West Pier columns removed for i360 seafront tower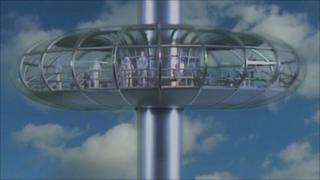 Preparatory work on the i360 seafront tower in Brighton has begun with construction expected to start sometime in the summer.
The columns of the old West Pier on the beach are being removed, with the rest of the structure remaining in the sea.
There is currently no date set for construction of the 600ft (183m) viewing platform.
However, the West Pier Trust said it expected work to begin in the summer.
The project was given a cash boost in March when Brighton and Hove City Council agreed to lend it £21.4m, in addition to the £14.8m already agreed.
Work to clear debris and artefacts from the beach began at the end of May, with removal of the columns beginning on Monday.