Staff threatened with gun in Lancing fast food robbery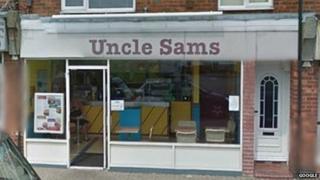 A teenager working in a fast food restaurant was threatened with a gun by a man who demanded to be given money.
The man, described by police as white, slim and "not tall", entered Uncle Sams in Lancing, West Sussex, on Saturday night and pointed the gun at an 18-year-old female member of staff.
He ordered staff to open the safe and left the Crabtree Lane restaurant with a substantial amount of cash.
Nobody was hurt but police said staff were "very shaken" by the incident.
Det Sgt Colin O'Hare of Sussex Police said the man, who struck at about 22:15 BST, had shown "great callousness" by pointing the gun at the young woman.