Security boosted on vandalised £10m Shoreham bridge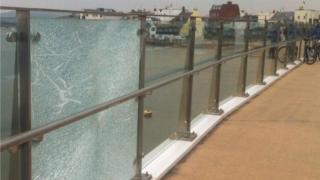 Security is being boosted on the £10m Adur Ferry Bridge in Shoreham after seven glass panels were smashed and a handrail was broken.
CCTV cameras will be added and police patrols increased after several attacks in the last three months caused damage put at tens of thousands of pounds.
The footbridge, which links the town centre with Shoreham Beach, was opened in 2013 by the Duke of Gloucester.
Adur District Council has condemned the attacks.
Chairman Mike Mendoza called the damage "mindless vandalism" which had been caused to a "beautiful" and "very well used bridge".
He said that each individual glass panel was different and cost between £5,000 and £7,000 each to repair.
While one CCTV camera had been installed at the High Street end of the bridge, a temporary camera was also recently added to the beach side.
Approval has been given for a third hi-tech camera and high intensity light to be included on the middle of the walkway.
Insp Allan Lowe of Sussex Police said the new measures "should act as a deterrent to anyone trying to cause damage to the bridge".
"There is also a greater probability of those responsible for this wanton vandalism being caught," he added.
Police have appealed for anybody who has information about the attacks to contact them.