A272 water works 'will affect Haywards Heath traders'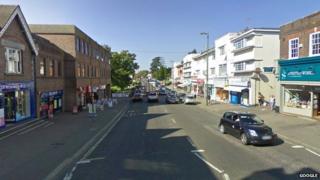 The replacement of several water mains on a key route through West Sussex over the next four months will cause massive disruption, according to local traders.
The pipeline along the A272 South Road in Haywards Heath has burst six times over the past five years.
The work coincides with the South of England Show at Ardingly and the London to Brighton bike ride through the town.
Sussex Bus director Russell Step said it was poorly timed. South East Water said it was the only feasible slot.
'Non-emergency work'
"It will effectively disrupt all services that run through Haywards Heath," Mr Step said.
"It's not exactly emergency work - if it's burst six times within the past five years they've not rushed into the job.
"There's no reason why they couldn't have left this for another week."
Ed Middleton, from Middleton's Butchers in the town centre, added the congestion caused by the roadworks would keep shoppers away and lead them to alternative shops.
South East Water is spending £600,000 on upgrading the pipeline, with the work expected to be completed by the end of September.
The company said its replacement would protect the town's future water supply.
Delivery manager Chris Love said it was the only opportunity that had been identified for the work to be carried out "bearing in mind there are other utilities working in and around the area throughout the year".
"We've been planning this since the beginning of the year... everyone is allocated a space to carry out the work, and this is our space," he said.
Maureen Schofield, chairwoman of the Haywards Heath and District Business Association, said there was no doubt that the work had to be done, but it would be the smaller businesses who would feel the impact from the roadworks, rather than the larger chains "with deeper pockets".
She conceded that it would have been useful if the work could have been "put off", and suggested the diversions could possibly be re-routed to relieve some of the pressure on local traders.