Police deliver baby in Shoreham petrol station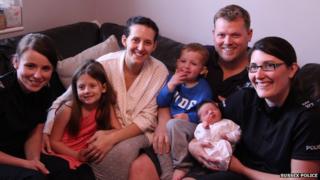 A baby has been delivered by two police officers in a West Sussex petrol station.
Barry Marcantonio was driving his wife to hospital when they got delayed in heavy traffic in Shoreham on Wednesday.
He pulled over in a petrol station in Brighton Road and called out to the two officers, while phoning 999.
PC Roisin Vafaee and PC Jenny Pieterson from Sussex Police rushed over to Beth Marcantonio and helped deliver baby Thea.
The family was taken by ambulance to Worthing Hospital where the couple's third child weighed in at 8lb 10oz (3.9kg) Sussex Police said.
Mrs Marcantonio said: "In a situation where I should have been absolutely terrified, I was bizarrely calm and totally reassured by Roisin's voice.
"I still remember exactly her first words to me, 'Hello, it's all ok, we are both mums, you're going to be absolutely fine.'"
Mr Marcantonio said they had been held up in rush-hour traffic on the A27 when he decided to turn off.
"It was becoming incredibly clear that our baby wanted to meet us" he said.