Hastings conference hears of alien abductions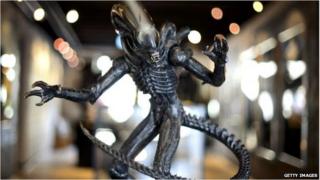 People who claim to have been abducted by aliens have been sharing their experiences at a conference in Sussex.
Speakers who say they have had contact with extra-terrestrials were at the event in Hastings, which organiser Joanne Summerscales said was to let them talk without fear of ridicule.
She set up a support group to help "abductees" and "contactees" in 2011.
Since then, about 1,500 people have used her helpline, claiming to have had dealings with beings from outer space.
'Post-traumatic stress'
"Most people who have had those experiences do not have anyone they can speak to about it," Ms Summerscales said.
"It's really about offering support where society doesn't.
"People laugh and say 'ha ha, little green men', but people who have these experiences can be very traumatised.
"Some people are even treated for post-traumatic stress disorder. Very few would tell their doctors the real reason they are suffering. Those who do are often on anti-psychotic medication."
She admits millions of people who are mentally ill will have had such experiences, but also cites research by Harvard psychiatrist Professor John Mack who found people who claimed to have been abducted were not mentally ill or delusional.
"It was ordinary people having these experiences," Ms Summerscales said.
"They were having some traumatic experience because of the fallout from it, which you might imagine is a huge issue."
The conference programme covered a range of alien life forms including "black clads" and "reptilians", and extra-terrestrial concepts such as the "interconnected matrix" and the "orgonite connection".
Ms Summerscales lists media, theatre, teaching, complementary health care and spiritual healing as some of her skills, but said her main qualification for helping people was that she was a human being.
"All we can do is hear people - hear their stories which they need to tell," she added.
Her organisation, Ammach, was holding its third annual conference on Saturday, with about 50 or 60 people expected to attend.
"I feel the public are ready to embrace this information," Ms Summerscales said.