Two toddlers critical in bank holiday go-kart crash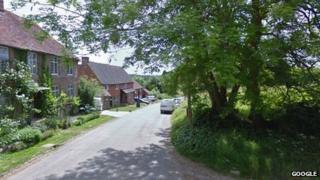 Two toddler cousins were critically injured and five others were hurt when a go-kart taking part in a race event in East Sussex ploughed into the crowd.
The two three-year-olds were among spectators watching the Warbleton go-karting Bank Holiday Soap Box Derby.
A pedal-driven kart left the road, which was closed for the event, and hit a group of spectators at 15:10 BST.
Both children were airlifted to two different London specialist hospitals suffering from serious head injuries.
The girl, from Hailsham, was flown to Kings College Hospital in South London and the boy, from Herstmonceaux, was taken by air ambulance to St George's Hospital also in South London.
Another child
Their conditions are currently described as critical.
Another child, a four year-old boy from Peacehaven, was also in the group of spectators. He suffered arm injuries and was taken to the Royal Sussex County Hospital.
Two others in the crowd were also hurt, they were a 20-year-old woman who suffered arm injuries and a 37-year-old man with a leg injury.
The go-kart was being driven by a 36-year-old man from Rushlake Green who suffered a knee injury but did not need hospital treatment. A 60-year-old woman also on the go-kart suffered an injury to her arm.
'We are devastated'
The Church Hill Challenge Soap Box Derby was being held by the Black Duck Pub in Warbleton and involves homemade go-carts being raced downhill.
In a statement the pub said: "The event has been run for the last three years for charity without any major incident.
"We are devastated that it ended the way it did on Monday and we wish the very best to all the people injured and their families."
Sussex Police said they were deciding if any action should be taken.
A spokesman for Wealden District Council said: "We are working with the police and the organisers of the event to find out more about the circumstances that led to this accident."