Match-fixing trial hears player had £3,000 legitimately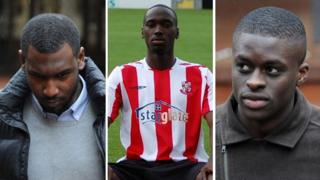 A non-league footballer who was paid £350 a week told police there was "an innocent explanation" for the £3,000 cash he was arrested with, a court heard.
Moses Swaibu was held days after an investigation was launched into an alleged match-fixing conspiracy, in November last year.
Two businessman are accused of being "the central figures" and coming to the UK to swing the outcome of matches.
All the men deny the charges.
Mr Swaibu, 25, who was on the books at Brighton-based Conference South club Whitehawk FC until 2 November 2013, was taking home £350 a week only when he made the squad for a game, Birmingham Crown Court heard.
The club's former commercial director Kevin Keehan, who relinquished the role at the end of the season, said Mr Swaibu had been registered with the side as a centre-half.
He told the court the footballer had completed a tax form stating football was his "main source of employment".
'Bit of banter'
Mr Keehan confirmed he would only ever get paid "if he played or came on as a substitute".
Mr Swaibu, of Tooley Street in Bermondsey, and footballers Michael Boateng, 22, of Davidson Road, Croydon and Hakeem Adelakun, 23, of Mayfield Crescent, Thornton Heath, all in south London, each deny conspiracy to commit bribery.
They also deny a separate alternative charge of bribery.
The jury earlier heard from another serving Whitehawk FC player, Thomas Cadmore, who said he considered an exchange between him and Mr Boateng to be "a bit of banter" and nothing more.
"It was a general chat about match-fixing. He just asked if I would ever do it," Mr Cadmore told prosecutor Robert Davies.
"Just talking about, if you would do it and I asked 'how' and 'how much'.
"Money was mentioned, I think a couple of grand, but I don't remember who said that - me or him."
'Willing recruits'
Denis Barry, Mr Boateng's defence counsel, put it to Mr Cadmore the chat was: "A bit of banter, wasn't it?"
The footballer replied: "Yes, I didn't perceive it any other way."
Singaporean businessmen Chann Sankaran, 33, of Hougang Avenue, Singapore, and Krishna Ganeshan, 44, of Hawthorn Road, Hastings, East Sussex, deny entering into a conspiracy in order to fix the outcome of matches.
They each face three alternatives charges of bribing footballers.
The jury heard that when National Crime Agency officers rounded up the suspects on 26 and 27 November, about £50,000 in cash and betting receipts were seized.
The prosecution alleges Mr Sankaran and Mr Ganeshan were the "central figures" in the alleged conspiracy, and their three co-accused were "willing recruits".
The trial continues.