Stockwell academy warned over 'conflict of interest'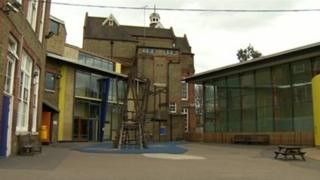 The executive head teacher of a south London primary academy has been told his company is banned from managing leisure facilities owned by the school's sponsor.
The Education Funding Agency (EFA) ordered Durand Academy governors to terminate a contract with GMG.
It said it was due to the risk of a "conflict of interest".
Durand said arrangements had evolved over decades through different governments and education landscapes.
Durand Academy in Stockwell is a state academy - not under local council control and with freedom over areas such as curriculum and staff pay.
Sir Greg Martin, executive head of Durand Academy, is director of GMG.
The firm had been contracted by London Horizons, which runs the school's facilities and accommodation, to manage the day-to-day operation of the services in an agreement worth £256,417 in 2012/13.
The contract was one of two flagged up as concerns by the EFA, with the other relating to a contract between the school and public relations firm PLMR.
Since the contract was put in place, PLMR's managing director Kevin Craig, has been appointed to the academy's governing body.
The EFA said it "identified a number of significant related party transactions", but recognised "arrangements had grown up over many years and have delivered significant benefits for the pupils of Durand".