Chichester fire after lightning strikes house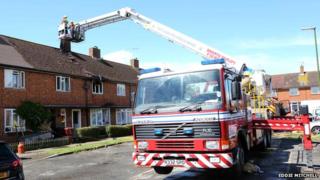 A terrace house in Chichester was set on fire and damaged after it was struck by lighting.
Firefighters were called to the blaze in Mumford Place after lightning struck the building's chimney stack, causing damage to all floors of the property.
West Sussex Fire and Rescue Service said four fire engines were sent to tackle the fire at 13:20 BST.
No one was hurt but a dog and parrot had to be rescued from the house.