Abdullah Deghayes Syria death probe police seize material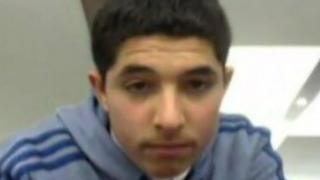 Police searching four houses following the death of a Brighton teenager in Syria have seized material they say could be "relevant to their inquiry".
The family home of Abdullah Deghayes in Saltdean is still being searched but officers have left the three other houses in the Brighton and Hove area.
Abdullah, 18, died in Syria after going with two brothers to "join the fight" against President Bashar al-Assad.
Sussex Police said no arrests had been made.
Abdullah left for Syria in January without his parents' consent. His father discovered last month, via Facebook, that he had been killed in the previous few weeks.
He was in Syria with his brothers Amer, 20, and Jaffar, 16. Their father said Amer had also been shot, in the stomach.
The brothers are the nephews of Omar Deghayes, who was held by the US at the Guantanamo Bay camp as an enemy combatant from 2002 until 2007, following his arrest in Pakistan.
The four properties, including the family home in Arundel Drive East, Saltdean, were searched on Tuesday by Sussex Police and the South East Counter Terrorist Unit.
After the raid, his father Abubaker said: "Police rang the bell and then tried to force the door open. My sister-in-law opened the door but I was asleep.
"I was shaken and woken up by police telling me that they have a court order to search the house, not to move and to stand up while they searched my pyjamas.
"They told me if I didn't co-operate I would be handcuffed."
Sussex Police said the searches were being carried out by unarmed officers, with warrants issued by magistrates under the Terrorism Act 2000.
A spokeswoman said: "Material which may be relevant to the inquiry has been taken away for examination. No arrests have been made."
On Tuesday Ch Supt Nev Kemp said: "I can give local people an assurance that this is not in response to any immediate threat to local communities."