Lewes skeleton linked to Norman invasion of 1066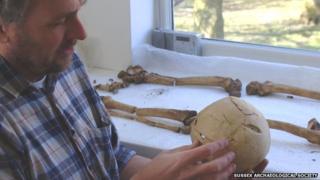 A skeleton found in East Sussex is the first discovered of a man likely to have been involved in battles at the time of the 1066 Norman invasion.
Skeleton 180, dug up from a medieval cemetery, was thought to have died at the Battle of Lewes in 1264 but is now known to be 200 years older.
Experts say the discovery could prompt a new re-evaluation of what happened in Britain in the aftermath of 1066.
"It is shocking," said Edwina Livesey of Sussex Archaeological Society.
"When I heard the news I was completely gobsmacked."
'More significant'
The skeleton, which has six fatal sword injuries on the back of his skull, was sent to experts at the University of York as part of preparations to celebrate the 750th anniversary of the Battle of Lewes.
But radiocarbon dating at the University of Edinburgh found it dated to 28 years either side of 1063 and was therefore likely to have been involved in fighting at the time of the Norman invasion and the Battle of Hastings.
Ms Livesey said the findings made Skeleton 180 a much more significant find than had been supposed.
"The Battle of Hastings and the Norman Conquest is much more nationally significant [than the Battle of Lewes]," she said.
"There is no record of any skirmishes happening in Lewes or any other towns in Sussex at the Norman Conquest, but this suggests that the Normans didn't just turn up and say, 'We're in charge', and everyone said, 'OK, that's fine'.
"It begins to paint a picture of what might have happened in the aftermath."
She said the Normans buried their dead in a mass grave, but there were records of bones of the English being visible on the hillsides years later.
"They haven't found any grave pits of the Normans," she said.
"The ground is very acidic so the bones may not have survived."
Ms Livesey said skirmishes must have happened, but there was no archaeological evidence of them.
University of York battlefield expert Tim Sutherland said the skeleton was apparently unique.
"It appears to be the only individual ever recorded which could be related to the Norman invasion," he said.
"A remarkable new story could be unfolding."