Armed robber targets Durrington post office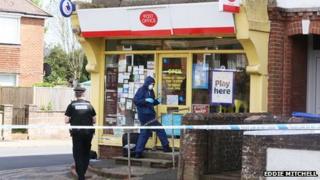 An armed robber who targeted a post office in West Sussex is being sought by police.
The suspect used a "pistol-type" gun to threaten a member of staff at Durrington post office in Salvington Road, Worthing, on Friday.
He fled the scene with stolen cash, heading towards Durrington Lane, Sussex Police said.
The man was described as 6ft 3in tall, aged about 20, with ginger hair and thin-framed glasses.
He was dressed in jeans and a dark, hooded top with a green letter M on the front and back. He was carrying a rucksack.
The post office worker was not injured in the robbery, which happened at about 13:50 BST.