Falklands veteran to ride 340 miles for Blind Veterans UK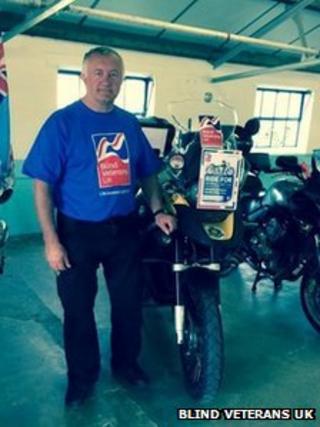 A Falklands war veteran is urging motorcyclists to join him on a charity ride from North Wales to Brighton.
Eon Matthews, 55, from Seaford in East Sussex, is working with Blind Veterans UK to organise its first motorcycling event, Ride For Life Beyond Sight Loss.
The keen biker, who served in the Royal Navy for more than 20 years, said the charity "is there for me and my former colleagues if we ever lose our sight".
"So I want to make sure I'm there for them," he said.
"There's a huge ex-forces community in motorcycling, primarily because there is this huge sense of camaraderie in both," Mr Matthews added.
During the Falklands War, he served on board HMS Glamorgan during one of the final battles of the conflict, during which it sustained a direct hit from a land-based Exocet missile, which killed 14 British personnel.
'Multiple fires'
"I remember that day really vividly," he said. "I was in the ops room when the missile was fired and I could see it coming towards us.
"We were about 12 miles from land, but the missile hit us within eight seconds of being fired.
"The ship had started to turn over and there were fires all over the place, so we had to spring into action immediately," he said.
Ride For Life Beyond Sight Loss takes place on 26 July.
The 340-mile route will see participants set off from Llandudno, travelling through the Welsh countryside, Wiltshire and the South Downs National Park before arriving in Brighton.