Brighton father calls for CRB checks for foreign students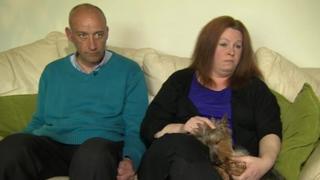 A father who unwittingly hosted a foreign student who was a convicted sex offender wants compulsory criminal records checks for language students who reside with families.
Zdenek Junek, 32, from the Czech Republic, stayed with Wayne and Sharon Beavill and their children in Brighton while studying at a language school.
He was jailed after police were told he had filmed children in a park.
Indecent images were subsequently found on his computer.
It later emerged that Junek, who arrived in Brighton in January, had a criminal record for sex offences in this homeland.
Unaware of the Czech national's background, the language school EF Brighton placed him with the family, who have two boys aged nine and 13.
Sussex Police arrested Junek after he was seen filming in a park at the Old Steine in March.
Last week he was jailed at Lewes Crown Court for 30 months for making indecent images of children, possessing indecent images of children and making an indecent video of children.
'Sick and disgusted'
Mr Beavill, who along with his wife has hosted foreign students for 14 years, said the language school had put his family at risk.
"We are CRB (Criminal Records Bureau) checked as a family to be capable of hosting students and I feel the students should also be CRB checked," he said.
Mrs Beavill said: "It was all that was in my mind, I wasn't sleeping.
"I wondered if my boys had been at risk even though they didn't interact much with him."
Language schools are not legally obliged to check the backgrounds of overseas students.
Tony Millns, chief executive of the language school industry body English UK, expressed his regret and said the incident was the only such case he had heard of during his 15 years in the job.
'Logistical difficulties'
He said more than 600,00 students come to the UK to study English every year.
"We're talking about a one in 10 million occurrence here," he said.
He said Junek was referred to EF Brighton by EF's office in the Czech Republic, that he had a passport and was free to travel.
"At first sight, there's no reason at all to suspect that someone like that may have this kind of criminal record," he said.
"We receive students from over 100 countries around the world and were you or I to request a CRB check, if there is such an organisation from China for example, it would come to you in Mandarin Chinese.
"You've got real logistical difficulties here and the best way forward seems to me that in this case the responsibility was with the Czech office."
EF Brighton, which is based in Old Steine, said it was extremely shocked to hear of the case and insisted it would never have knowingly placed someone with a known criminal record within a family.
The spokesman said there were no standards or requirements for vetting visitors who stay in private accommodation.
He added that the school had "discussed this with the host family concerned and apologised for any distress caused".