Hastings Council told to pay pier compensation claim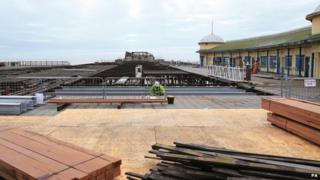 Hastings Council has said it is "bitterly disappointed" after losing an appeal over a compensation claim for closing the town's pier.
The council used emergency powers to close the pier in 2006 over worries about its safety.
Stylus Sports, which ran a bingo hall and amusement arcade on the pier, claimed it suffered financially as a result.
The pier was severely damaged in a fire in 2010 and is being rebuilt.
The council said in 2006 the pier was found to be structurally unsafe and the owners of the pier at the time, Panama-registered company Ravenclaw, could not be contacted.
The council decided to close the pier a day before a disco due to attract about 500 young people.
'True culprit'
In April 2013 judges at the High Court ruled the council was liable to pay compensation. This decision was recently confirmed by three judges at the Court of Appeal.
A lawyer acting on behalf of Manolete Partners, which bought Stylus Sports' claim after the company went into liquidation in 2011, told the BBC it would be seeking upwards of £1.8m at arbitration.
A council spokesman said there was no reserve fund to pay the compensation, so it would come from money that would "otherwise be spent on Hastings".
However, he added that the rebuilding of the pier would not be affected as the money had mainly come from the Heritage Lottery Fund and the pier was now owned by a charity.
The judgement states: "The true culprit, Ravenclaw, is outside the jurisdiction and effectively beyond the reach of any enforcement procedures.
"The court is faced with the familiar problem of deciding which of the surviving parties should bear the loss caused by the culprit."
The council said all it had ever tried to do was ensure the pier was safe.