Camelia Botnar Children's Centre may close in July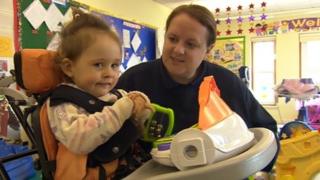 A centre for children with special needs and life-limiting illnesses has said it will close in July unless new backers are found.
The Camelia Botnar Children's Centre in Goring-by-Sea, West Sussex, costs £250,000 a year to run.
It was funded by the Camelia Botnar Foundation until 2009, but has since been independent, running on it reserves and fundraising.
The foundation says it can no longer afford the running costs.
The centre has begun a formal one-month redundancy consultation with its 20 professional carers, most of whom have worked there for more than a decade.
'Economic climate'
Angie Scott's daughter Gabby, two, has a form of cerebral palsy and is one of 70 children who visit the centre each week.
Ms Scott said: "It's been fantastic, she's progressed so much since she's been here in such a short time.
"The staff are all trained, they've got the equipment that they need here and if you go to another nursery they won't have the equipment for the children, so it'll be fantastic if someone can save this nursery."
"It has been very difficult," trustee Linda Smith said.
"We have tried very hard to get somebody else involved and to help us in our plight but, unfortunately, with the present economic climate, it's not really possible to get anybody to help to the extent that we need the help."