Work starts on Brighton station 'boulevard'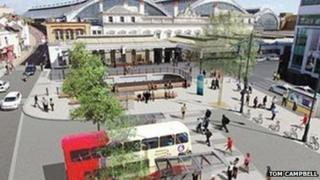 Work to create tree-lined "boulevards" leading from Brighton railway station is about to begin.
The tree planting in Surrey Street and Queen's Road is the third phase of improvements to the city's main station.
The scheme will extend as far as the junction with Gloucester Road and include the creation of more pavement space and pedestrian crossings.
Better seating will be designed to encourage people to linger in the area.
Traffic diversions
"Creating a more welcoming and pleasant space around Brighton station is long overdue and it is wonderful to see the improvements taking shape," said Councillor Ian Davey.
"The station and surrounding streets have a big impact and the aim is to create a much improved environment for everyone."
Work on the latest phase is due to start on Tuesday and last until August, with temporary traffic diversions in place.
The final stage of the improvements will include remodelling the bus stops area.