Balcombe anti-fracking protesters consider legal challenge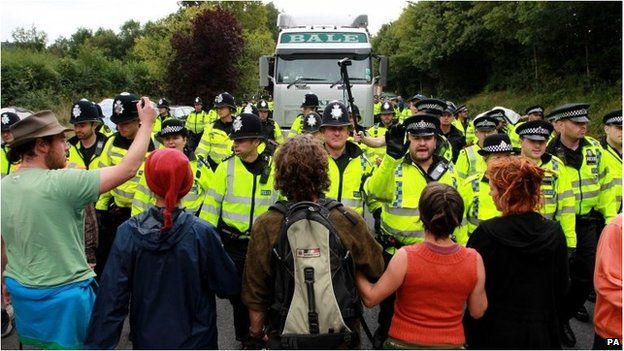 Anti-fracking protesters are considering a legal challenge against the decision to approve plans for the continued exploration for oil and gas at Balcombe.
West Sussex County Council (WSCC) this week granted energy company Cuadrilla permission to carry out further tests.
Protesters from around the country gathered last summer amid fears that test-drilling would lead to fracking.
Cuadrilla says it will not carry out hydraulic fracturing at the site.
Frack Free Balcombe Residents Association said it was meeting lawyers next week to see if there were grounds for a judicial review of the WSCC decision.
"Maybe we are just hoping in vain but the sensible thing is to ask the lawyers and follow their advice," said spokesman Charles Metcalfe.
"There are times when we feel like pawns struggling against giants."
He said the group had been advised it might be able to take action using European legislation which capped legal fees at £10,000 for associations such as his.
"We have 300 members, so that works out at less than £35 each, so it's perfectly do-able in terms of cost," he said.
Cuadrilla said it wanted to check the quantity of oil and how quickly it flows using a process called flow-testing.
To do this it would first dissolve mud in the well and clean its limestone face by circulating a solution made up of 90% water and 10% hydrochloric acid.
"At this dilution ratio the solution is classified as non-hazardous to groundwater," a Cuadrilla spokeswoman said.
The testing, which will take seven days, is unlikely to take place this year, she added.
A Cuadrilla spokeswoman said there was no need to hydraulically fracture the well because the rock is naturally fractured.
She said the dilute hydrochloric acid solution was not the same as that used for fracking, and that it would not be pumped in at a high enough pressure to fracture the rock.
Related Internet Links
The BBC is not responsible for the content of external sites.