Sex abuser Christopher Mancini 'could have been prosecuted earlier'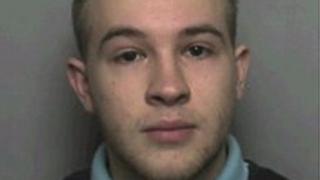 A teenager who was jailed for 49 sexual offences involving 13 boys could have been prosecuted earlier, a report has said.
Christopher Mancini, 19, from Hurstpierpoint, was jailed for 18 years in January for abusing the boys between 2005 and 2012.
A serious case review published by West Sussex County Council has highlighted missed opportunities and delays.
The council and Sussex Police said weaknesses had been acted on.
The report said that until October 2012, there was a lack of evidence for police to be able to progress a criminal investigation.
But it added: "It may be that this would never have been possible to obtain, but the chances of detecting and prosecuting [Mancini] earlier would have been enhanced if all the investigations had been timely and child-focused."
Officers 'blinkered'
Mancini was convicted of 34 sexual offences involving 10 boys following a trial at Lewes Crown Court in October.
Twenty-four were of causing or inciting sexual activity, five were of sexual assault, four were of making indecent images of children, and one was of rape.
Mancini had also pleaded guilty before the trial to 15 offences of sexual activity with a child, involving three boys.
The report said that between May 2009 and October 2012, social services and police received a number of allegations of sexual abuse against Mancini, who was under 18, from children in a Sussex village.
"It was not until late 2012 that the police obtained a high standard of evidence," it said.
"Within children's social care the view was that this was a police responsibility, whilst the social workers concentrated on the safety of children within the family and the needs of identified children.
"The police confined themselves to the role of criminal investigation: the officers concerned appeared to become blinkered by the lack of a substantive allegation, and did not consider how to progress matters on an intelligence-led basis, disclosing to others where necessary, both internally and externally, to mitigate risk."
'Appalling crime'
Annie MacIver, head of children's social care at West Sussex County Council, said: "This was an appalling crime for which Mancini is now serving a very long prison sentence.
"Staff were confronted with the unusual set of circumstances and since the investigation we have instituted changes in working practices that have strengthened our processes.
"We accept there were practice shortcomings and will take the recommendations on board as we work to ensure our response in these circumstances is as good as when dealing with allegations of abuse in the home."
Det Supt Paul Furnell, of Sussex Police said the force accepted the findings and recommendations, and the weaknesses in the report had been acted on.
"This was an unusual and difficult case for our officers and social workers," he said.
"But communication between agencies was not as effective as it should have been and this meant that we did not grasp the complex and challenging reality of what was happening with the young offender and his young victims early enough."