Safety of Brighton seafront questioned after A259 collapse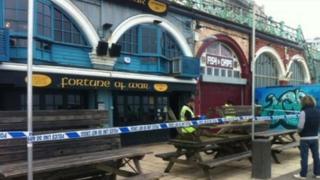 The safety of Brighton's seafront has been called into question after arches underneath the main road collapsed.
A "large depression" in the A259 King's Road was created on Friday after the roof of a pub below the road collapsed while men were carrying out work.
The affected part of the road remains closed.
Leader of the city's Labour group Warren Morgan has called for millions of pounds to be diverted from other projects as a matter of urgency.
Laurence Hill, landlord of the Fortune of War pub, said builders were shoring up a fire exit when "a couple of tons of rubble" came down.
Mr Morgan said the collapse showed how critical the condition of "one our most important transport arteries" was.
"It is vital for business, tourism and of course traffic, and major disruption will do immense harm to our city's economy," he said.
"Labour is calling for the £8m of funding that the council has secured for the Valley Gardens improvement scheme to be diverted to deal with the urgent work needed to keep the A259 seafront road open," he said.
Green Party councillor Ian Davy, who is the cabinet member for transport at Brighton and Hove City Council, said: "We have already diverted funds from other projects to do the work we're doing at the moment, but the money that he [Mr Morgan] is talking about, we don't even have.
"It's money we're trying to secure for Valley Gardens.
"It is an absolute priority - we're spending £5m around the West Pier site at the moment.
"There's no evidence to link this particular failure to anything other than work that was taking place within the Fortune of War."