Shakespeare's 450th birthday: 'Bard-breaking record' at 37,000ft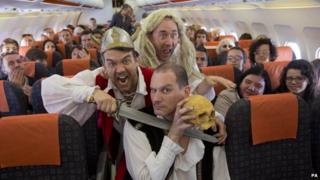 A theatre company is hoping to have set a new world record by performing an abridged version of Shakespeare's works at more than 37,000ft (11,278m).
The Reduced Shakespeare Company performed Shakes on a Plane on a flight from Gatwick Airport to Verona, Italy.
Actors Simon Cole, Gary Fannin and William Meredith are thought to have undertaken the highest theatrical performance by acting continuously.
They were celebrating the 450th anniversary of the playwright's birth.
The performance, which included scenes from Romeo and Juliet, Titus Andronicus, Othello, Macbeth, Julius Caesar and Hamlet, lasted for almost an hour.
Simon Cureton, 39, from Sydney, Australia, was on board the Easyjet flight with his wife Linda, 34, and their four children.
The couple, who were staying in Tunbridge Wells in Kent, were on their way to visit Mrs Cureton's family in Verona.
"Certainly, this was the most entertaining flight I have ever taken," Mr Cureton said.
"It was a fabulous performance and great for the children.
"We had front row seats and it was great the way they interacted with the children. We have got a picture of Carlo with the Macbeth head."
An Easyjet spokeswoman said the performance was expected to be officially verified by Guinness World Records within the next week.