Teen fell from Worthing fairground ride 'like ragdoll'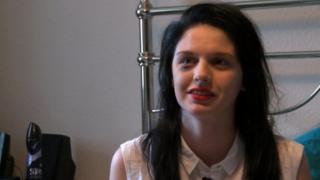 A teenager who fell 15ft (4.5m) headfirst from a fairground ride in West Sussex has spoken of her experience.
Bethany Thorpe, 18, fell from the Rocker ride on Marine Parade in Worthing at about 21:30 BST. She was taken to the Royal Sussex Hospital.
She said she would "never go on a ride" again.
The ride was closed over the weekend and Worthing Borough Council is investigating the fall.
Ms Thorpe said: "It was a shock - I was having fun and then the next minute I woke up in hospital.
"I didn't feel alive really."
She added: "I came out with bruises and cuts and I've still got a black eye. It's a miracle that I survived it.
"I was like a ragdoll apparently and I fell headfirst on to a barrier."
'Lucky to be alive'
Her father, Robert, said seeing his daughter in hospital was a "traumatic sight".
"When I saw her there, and what I heard about what happened, I'm really upset about it," he said.
"We thought she'd gone. She was lucky to be alive."
After the fall, John Miller, director for communities at Worthing Borough Council, said: "The fairground ride operators and the council will fully co-operate with the HSE and relevant authorities into the investigation that will take place."