West Sussex homes flooded as Bewbush water main bursts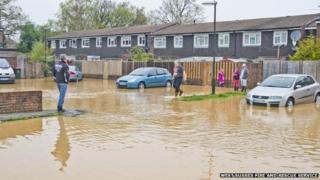 Fifteen houses have been flooded in part of Crawley after a water main burst.
West Sussex Fire and Rescue Service (WSFRS) said it received an alert after several homes and roads were flooded in Bewbush.
Sussex Police closed Scory Close and the water main was isolated.
The fire service said council workers and utility firms were at the scene. Southern Water, which owns the pipe, said teams were helping customers.
'Major burst'
A spokeswoman for WSFRS said one fire engine remained at the scene, with the crew offering advice, but left when the water started to drain away.
In a statement, Southern Water said it was doing all it could to help customers affected by what was a "major burst".
The company said the pipe burst on the roundabout at the junction with Horsham Road and Breezehurst Drive at about 07:30 BST.
"Regrettably, a significant amount of water escaped from the pipe and has caused some flooding to homes and gardens in the area," the statement said.
"Teams are on site helping affected customers, carrying out a clean-up and repairing the pipe."
The company said water supplies to properties had been re-routed so no homes were without tap water. No homes were evacuated.
By about 16:30 BST, the flood water had subsided, the area had been cleaned up and the road reopened, Southern Water said.
The company said the burst main had been repaired and its customer services staff would remain in contact with people affected to offer any help they may need.