Hastings gang jailed for torturing Benjamin Hutchings-Mitchell, 21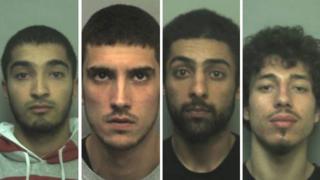 Three men and a teenager have been jailed after they tied up a student and tortured him in an attempt to make him hand over money.
Benjamin Hutchings-Mitchell, 21, was lured to a house in Hastings, East Sussex, where he was tied up and gagged before being beaten with a hammer.
He was taken to woods where they then discussed burying him alive.
Sam Simon, Muhammet Yalcin, Artur Oganesyan and a youth of 17 were jailed at Hove Crown Court.
Feared death
The court heard Mr Hutchings-Mitchell was lured to the house by ringleader Sam Simon, who was a friend of his, on 19 September.
After the attack he was driven to Brede High Wood near Battle in a body bag, where he was assaulted again.
His two-hour ordeal ended when the men took him back to Hastings and released him in the street.
Mr Hutchings-Mitchell told BBC South East he thought he was going to die.
"They talked about taking me to a forest and that happened, so I thought it was going to end," he said.
The court heard police had confiscated a large sum of money from Sam Simon, a drug dealer, in the weeks leading up to the attack.
He thought he would be able to recoup the cash from Mr Hutchings-Mitchell.
Sam Simon, 21, of Earl Street, Hastings, who pleaded guilty to false imprisonment at an earlier hearing, was jailed for nine years.
Yalcin, 20, of Kenilworth Road, St Leonards and Oganesyan, 23, of Stanley Road, Hastings, were also convicted of false imprisonment and jailed for five years and two years respectively.
The 17-year-old was found guilty of false imprisonment and given a four-year sentence.
A fourth man, who was not involved in the attack, Jowad Ghemati, 27, of Holmhurst Lane, St Leonards, was convicted of witness intimidation and jailed for 12 months.