Shoreham campaigners' concerns over airport's future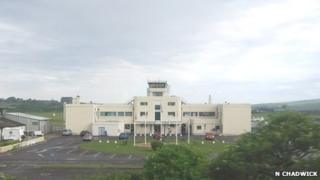 Campaigners have said they are increasingly concerned about a "lack of clarity" surrounding the long-term future of Shoreham Airport.
The Shoreham Society said there had been a lack of response to questions about the deteriorating state of the art deco terminal building.
The airport's owners said they wanted to ensure the airport became a sustainable and profitable operation.
Set up in 1910, it is said to be the country's oldest working airport.
The site is owned jointly by Brighton and Hove and Worthing councils and leased to Albemarle Shoreham Airport Ltd, which runs it.
In a statement, the councils said they were currently in negotiations with Brighton City Airport Ltd over a proposal for it to take over responsibility for the airport from the existing operators.