Chichester remains: Tests on 4,000-year-old Racton Man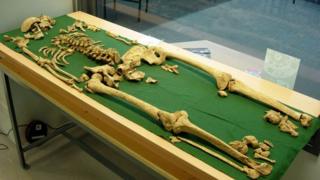 Tests will be carried out on a 4,000-year-old skeleton that was found on farmland in West Sussex 25 years ago.
Experts believe the skeleton, which was found with an ornate dagger, could be from the Copper Age or Early Bronze Age - about 2,200-2,100 BC.
Archaeologist James Kenny, who led the dig near Chichester in the 1980s, said there were then no funds for tests but a £10,000 project would now begin.
He said the bones dated back to the same period as Stonehenge.
The skeleton, named Racton Man after where it was found, is probably male because of its height, Mr Kenny said.
It was found in a crouched or foetal position, referred to by archaeologists as a "crouched inhumation".
Scientific analysis will show the age of the remains, whether the person was a man or woman, where they came from, and whether they had any disease.
'Priest or king'
"Near Stonehenge, they had the Amesbury Archer which was excavated about 10 years ago," Mr Kenny said.
"They're certain that he was a foreigner and came from elsewhere and we wonder if this is the same."
Tests will also identify whether the dagger blade, which had a bone or horn handle studded with 28 rivets or metal pellets, was copper or bronze, he added.
It could have been used to sacrifice animals and may have had a ceremonial or ritual purpose.
As a prized object, the presence of the dagger in the grave suggests the remains are of a person with status and power - possibly a priest or a king.
Mr Kenny was in his 20s and at the start of his career with Chichester District Council when a local metal detectorist uncovered bone and metal fragments near Westbourne and the local authority's archaeology team was called in.
He led a dig with four other people, but there were no funds for post-excavation research.
"In the 1980s, there wasn't much money and modern scientific techniques available today, like carbon dating, were then quite expensive and certainly beyond the reaches of a small provincial archaeology unit," Mr Kenny said.
He said staff could only record the finds and curate them in a museum.
But 18 months ago, a chance meeting between Mr Kenny and an expert in Bronze Age metalwork led to funds being sought for analysis by experts from University College London and National Museums Scotland.
After tests have been carried out, Racton Man will go on display at the Novium Museum in September.