Gatwick Airport Christmas Eve chaos a 'wake-up call'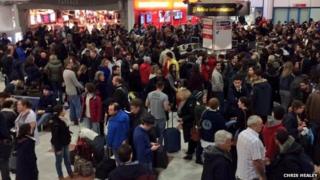 The chaos at Gatwick Airport on Christmas Eve should be "a wake-up call for airports across the UK", a report by MPs has said.
More than 11,000 passengers at the West Sussex airport were affected by delays and cancellations on 24 December.
After flooding caused a power failure, there was "confusion" and a "lack of information" at the airport, the House of Commons Transport Committee said.
Its report also highlighted a lack of toilets and drinking water.
There was also a "lack of clarity about who was in charge" and confusion about what passengers could be reimbursed for.
Gatwick Airport said it "fully accepted" the report's recommendations and has set aside a £30m resilience fund.
'Passengers in the dark'
The committee's report said: "The problems at Gatwick at Christmas Eve should be a wake-up call for airports across the UK to get on top of operational resilience issues."
The committee said airport operators should have "well-drilled plans... which put passenger interests first".
It recommended the Civil Aviation Authority (CAA) bring forward plans to improve the provision of information for passengers about their rights during times of disruption.
Committee chairman Louise Ellman said: "Passengers need accurate and consistent information, must be able to identify who is in charge during periods of disruption, and should have ready access to toilets and drinking water.
"Passengers must also be promptly reimbursed for the extra costs they face as a consequence of disruption.
"If our largest airports cannot demonstrate they can look after passengers' interests in this way then the CAA must act."
Labour's shadow aviation minister Gordon Marsden said: "Despite the efforts of individual staff, management failures left passengers in the dark over the fate of their flights and compensation.
"The government must be far more proactive in improving passenger experience."
An earlier review by the airport of the Christmas Eve disruption called for a passenger champion to be made available at each of its terminals to focus on travellers' welfare.
The committee suggested similar arrangements should be put in place at other major UK airports.
A spokeswoman for Gatwick Airport said: "Following the events of Christmas Eve, Gatwick set aside a £30m resilience fund and immediately began projects to strengthen flood defences.
"In partnership with its airlines, extensive work has already been undertaken to improve contingency plans and passenger welfare in times of disruption."
A spokesman for the CAA said: "Both Gatwick and Heathrow are required to have their contingency plans in place by October and, once published, we will regularly review them - taking action where necessary if we feel the plans are not sufficient to protect passengers during disruption."
A Department for Transport spokeswoman added: "Other airports should also learn lessons from this report."