Crawley traders' anger over car rally 'tradition' change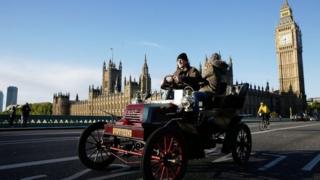 Traders in a West Sussex town have spoken of their unhappiness that this year's London to Brighton veteran car run will not stop for refuelling and refreshments on their high street.
Instead, the drivers will visit a car dealership outside the centre of the town.
One trader claimed that Crawley was "losing a tradition".
Organiser the Royal Automobile Club said it was difficult for up to 550 cars to stop in the town centre.
The event started in 1896 and is said to be the world's longest running motoring event.
'Great tragedy'
The rally repeats the 1896 Emancipation Run which marked the raising of the speed limit for cars from four to 14 miles per hour.
The 60-mile journey starts in Hyde Park, London, mainly following the A23 Old Brighton Road, and stops in Crawley and Preston Park before finishing on Madeira Drive on the Brighton seafront.
One shop owner, who did not want to be named, said: "I think it's a great tragedy and very sad, given that the veteran cars have been arriving in Crawley for 110 years.
"It's just absolutely dreadful and it's something that Crawley should retain in my opinion."
"Moving to a different place will not help us," another trader added.
Ben Cussons, chairman of the Royal Automobile Club, said the rally had become a "world leading event".
He said the route would still go through Crawley town centre, but the coffee stop would be at a Honda dealership.
"It's a very big event. We've got up to 550 entries coming from all over the world, as far as Canada, Hong Kong, Australia," he said.
"The real challenge we've got is simply the size of Crawley town centre - trying to accommodate them all in that area."