Brighton bin strike talks break up without agreement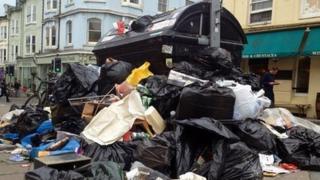 Talks aimed at preventing another bin strike in Brighton and Hove have broken up without agreement.
The GMB said it would ballot for industrial action next week if it cannot come to an agreement with the city council on changes to collections.
Rubbish piled up in the streets last summer when refuse collectors went on strike for a week in a pay dispute.
The council's environment director Geoff Raw said: "We will do our best to respond as positively as we can."
The GMB claims the authority has repeatedly failed to consult with staff on the reorganisation of rounds introduced last October, which it said was causing chaos and increased workloads.
Negotiations, which ended after three hours, are due to resume between the two sides on Friday.
'Exocet button'
"We have put a number of suggestions and proposals forward and they have gone away now to consider those," said GMB spokesman Mark Turner.
"If they've got something that we can't necessarily sign up to on Friday but it warrants further discussions then we will do that.
"If they don't come up with anything realistic then unfortunately the Exocet button will be hit."
Mr Raw said the GMB had raised issues about specific groups of staff and the round changes.
He said new vehicles were being delivered in the late summer which would improve reliability.
"What's at stake is trying to put in place a refuse and recycling service that meets the need of the community who live in the city and the 10 million visitors a year," he said.
"The changes we introduced last year are all about trying to achieve that."