Waverley roads earmarked for tighter parking restrictions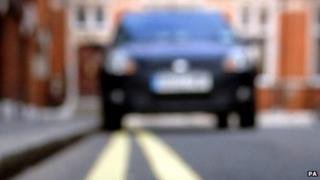 Almost 100 roads in the Waverley area of Surrey have been earmarked for tighter parking restrictions.
It comes after complaints from people in Farnham, Godalming and Haslemere, who say their drives are being blocked by London-bound commuters.
Surrey County Council has been consulting on plans to extend double yellow lines and make some areas residents-only zones.
The authority said it would try to "weigh up" all the issues raised.
One woman, who lives in Farnham but did not want to be named, said: "People who are residents near the station shouldn't have to put up with people outside their house parked all day."
'Three options'
Another woman added: "There always seems to be enough space in the [station] car park.
"I think it's just people not prepared to pay for the parking."
Peter Martin, ward councillor for Godalming South, Milford and Witley, said: "We'll consider each road or each zone and we'll have three options before us.
"We'll be able to just simply pass through the proposals, or we can amend the proposals, or we can decide not to put the proposals through at all.
"We'll try and weigh up what everybody is saying to us."