Hastings Pier shares scheme beats £500,000 target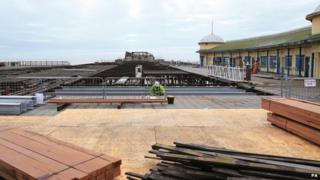 A charity aiming to restore an East Sussex seaside pier that was damaged by fire has sold £590,000 worth of shares to aid its project.
It will cost £14m to rebuild Hastings pier, which was partly destroyed in 2010, with most of the money coming from the Heritage Lottery Fund.
Hastings Pier Charity offered the £1 shares in October, with a deadline of Saturday, hoping to raise £500,000.
It beat the target with buyers coming from overseas and from around the UK.
Simon Opie, from the charity, said there were now just under 3,000 shareholders, with about 50% of them local to Hastings.
'Debt of gratitude'
He said: "It is an amazing outcome and just shows the depths of feeling that people have and the appeal of the pier itself and its story.
"Many people, at whatever level they have invested, have dug extremely deep in the current economic climate to support the project and we owe them a huge debt of gratitude."
The first £200,000 raised through the share scheme will close the funding gap on the project, Mr Opie said.
The rest would be used to help support commercial activity on the pier and help sustain it as a business, he added.
Up to 95% of the Grade II-listed structure was damaged in an arson attack in 2010, following years of neglect.
Restoration work began in December with the aim of reopening the pier in spring 2015.
Funfairs, a circus, an open-air cinema and theatre, farmers' markets and a heritage centre are among the plans for the attraction.